The Hair Transplant Network community can help you find the perfect type hair replacement system
Hair replacement systems have many names; to some they're known as hairpieces, toupees or wigs. Over the past decade there have been many improvements to the materials and hair used in construction so many people now refer to these new hair replacements as simply a "hair system".
For men and women suffering from extensive hair loss, hair replacement systems can offer a nearly instant solution. Of course, it isn't your own growing hair and will require regular maintenance to achieve the most natural appearance.
At the Hair Transplant Network, we are dedicated to providing information to our community to help you choose the best hair loss treatment possible. Many of our members have experience wearing such systems, and you can learn more about their experiences by visiting our discussion forum dedicated to non surgical hair replacement.
Where to Get a Hair Replacement System
Traditionally, ordering a hair system meant going into a retail salon or club to be fitted after which regular appointments would be required to clean, maintain and attach the hair every 3 or 4 weeks.
Today, with online communication becoming more prevalent, many people are now getting their hair systems from mail order replacement companies at a fraction of the cost and doing most of the maintenance and attachment themselves from home.
How Is a Hair System Made?
There are many different materials used in the construction of a system. The two main parts include a base and the hair.

Choosing the proper base material comes down to a decision on appearance vs. durability. If you're looking to get the most natural, undetectable appearance possible then a lighter and more delicate material would be ideal. If durability is your priority, there are a variety of thicker materials to choose from.The first part is a base. Bases sit upon your head and meet your scalp and are often made from either a lace or polyurethane material.
The second part is the hair, either synthetic or human; it is tied, or sometimes injected, to the base material to form a completed hair system.
Our community can help you to determine which hair replacement system is best for you.
How Are Non-Surgical Hair Replacement Systems Attached?
Hair systems can be attached in a variety of ways. They can adhere to the skin, hair, or a combination of both.
When attached to existing hair, this method can provide an extra sense of security for clients who enjoy active lifestyles. This type of attachment goes by names such as fusion, weaves, cabling, beading and bonding.
Because this type of attachment depends on the rate of the hair's growth, the system must be reattached periodically.
These replacement systems can also be applied to bare skin. This can be performed in a variety of ways, such as waterproof and biologically safe glues as well as two-sided tape. However, while these glues and tapes are generally safe for the skin, it's possible to have an adverse reaction.
It's also possible to have a system applied surgically. However, this method of attachment is not recommended due to possible complications such as skin infections. If you'd prefer a surgical option, our recommended physicians can help you determine other safe hair transplant surgery alternatives.
Maintaining a Hair System
To achieve and keep a natural appearance of a hair replacement system, regular maintenance is necessary. If you go to a retail salon, plan on monthly appointments to have your hair system removed, cleaned and reattached. Most hair wearers will have their scalp thoroughly cleaned and get a hair cut during these appointments as well.
As mentioned above, many people are now learning to maintain their own hair from home. This can be a viable option if you have the necessary time and knowledge.
Understanding the basics of attachment is crucial; since most hair wearers rely on temporary adhesives, choosing the right type of toupee tape is the first step. With a quality replacement, one can expect to continue doing all normal daily activities such as showering, running, bicycling, enjoying water sports and more.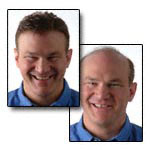 Finding a Quality Hair System
We've all seen those late night infomercials for the national retail salons and clubs, but many experienced hair wearers have found they can get a better value working with a local studio or online hair replacement company.
No matter where you get it from, there are some basic questions to ask before deciding on a supplier.
Do they offer a money-back guarantee or trial period?
Can you see photos or talk with actual clients before ordering?
Our community can help you learn from other patient experiences, and can assist you in finding the perfect hair replacement system.