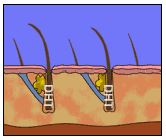 Snake Oils or Legitimate?
There is still no complete "cure" for baldness. But topical hair loss treatments such as special shampoos and various scalp treatments can compliment proven treatments such as Propecia, Rogaine or surgical hair restoration.
However, many of the claims made by these topical hair regrowth treatments are unproven and even false. Below are various categories of topical treatments.
For in-depth information about virtually all topical treatments visit the Hair Loss Learning Center.
Inhibiting Hair Loss at its Roots.
There are several topical treatments that claim to minimize or block the amount of dyhydrotestosterone (DHT) present in the scalp.
The success of these topical treatments in reducing DHT levels in the scalp has not been clinically proven.

Revivogen.
This topical treatment claims to be very successful at inhibiting the 5-alpha reductase enzyme, which converts testosterone into DHT.
Crinagen.
This topical scalp spray is noted for being completely natural. It contains no alcohol and has displayed no side effects. Crinagen is also equally safe for men and women.
The product's two most main ingredients are Proanthocyanidins and azelaic acid. The manufacture alleges that both of these ingredients reduce DHT content and nourish the scalp's hair follicles.
Hair Growth Stimulators - Reviving Thinning Hair.
These types of treatments work by stimulating hair growth and include Tricomin, Folligen, Proxiphen (along with Prox-N and Nano Shampoo) and Retin-A.
Tricomin.

Tricomin, which is used by men and women, is a topical spray that has undergone a wide variety of scientific testing. The spray's main ingredient is copper, which has been proven to be beneficial for hair.
The FDA has conducted some clinical studies, with the subjects applying the treatment twice per day for 24 weeks. These results were shown to be very positive.
Besides the spray, Tricomin is available as a shampoo and conditioner.
Retin-A.
Retin-A (also known by its scientific name, tretinoin gel 0.1%), is a topical treatment that's primarily used as an acne medication. However, research has shown that Retin-A, either by itself or with Rogaine, may grow some hair in those with male pattern baldness or female pattern baldness.
To use Retin-A, you should apply a thin layer with a gauze pad or cotton swab to the affected areas at bedtime. Remember to wash your hands immediately after using the product! You should also take care not to get any Retin-A near the eyes, mouth, or open cuts. The medication may irritate sensitive skin.
Shampoos and Conditioners to Stop Hair Loss.
In fighting hair loss, there may be certain unwelcome side effects produced. These side effects are the results of the body's natural immune response. These effects can increase hair loss, if not controlled.
Nizoral.
Here's one shampoo that fits in with any remedy for hair loss.
Nizoral, made for men and women, is available in any grocery store. Nizoral is effective at reducing itching, inflammation and other side effects of other treatments, such as Propecia. The shampoo also maintains scalp health. Plus, research has shown that using Nizoral for an extended period may help to treat male pattern baldness (MPB) and female pattern baldness (FPB).
It's advised that you apply Nizoral once every three days, in rotation with your normal shampoo. However, as Nizoral's effects can last for several days, it is a very inexpensive treatment option.
T/Gel Shampoos.
T/Gel is the brand name for a variety of shampoos and hair treatments. Primarily, these products are designed to treat such scalp problems as dandruff, itching, flakiness, and excess oil.
Nioxin shampoo and conditioners.
If you have fine or thinning hair, you may want to consider the Nioxin family of hair products. These all-natural cleansers, conditioners, treatments and styling products are free of any drugs and prove out to be the best cure for thinning hair.
Nioxin can improve the hair's health by cleansing the scalp's skin, strengthening the hair follicle and energizing the cellular activity.
Nioxin has not been found to have any effect on DHT. However, by keeping the follicles healthy, these products may help delay hair loss. Because there are no side effects, the products can be used everyday.