FUE hair transplant surgery or FUE is a surgical hair restoration procedure that involves the individual harvesting of naturally occurring follicular unit grafts using a punch or similar extraction tool. FUE extraction devices vary widely in their design but each has the potential to deliver excellent results in the hands of a skilled and experienced surgeon.
FUE extraction tools can be classified into two basics types; manual and powered. In addition to the FUE extraction devices previously mentioned, the ones below represent some of the most popular choices among FUE practitioners today.
Manual FUE Tools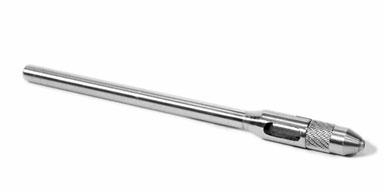 Versi Handle:
Designed by Mediquip Surgical, the titanium Versi Handle is the top choice of many manual FUE practitioners. It is available in micro, small and large sizes, accommodating the following tip punch sizes:
Micro: - Tip punch sizes 0.3, 0.4, 0.5, 0.55 & 0.6 mm, and Pro FUE punch size 0.6 mm
Small: - Tip punch sizes 0.65, 0.7, 0.75, 0.8, 0.85 0.9, 0.95, 1.0, 1.05 & 1.1 mm, and Pro FUE Punch sizes 0.8, 0.9, 1.0 & 1.2 mm
Large: - tip punch sizes 1.2. 1.25, 1.3 & 1.5 mm
The Versi Handle normally carries a sharp tip.

RotoCore:
The RotoCore device automatically rotates the sharp punch as it cuts the skin around the follicular unit. This eliminates the need for the physician to rotate the punch while creating the circular incision around the graft. The device can also be pre-set to cut to a selected depth.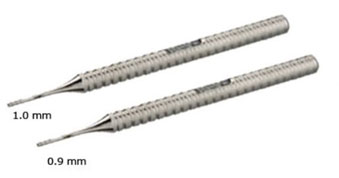 Feller Punch:
Designed by Dr. Alan Feller, this patented punch design features an interior relief profile that enables friction-free graft extraction without twisting or desiccation.
The tool is ergonomically balanced and ideally weighted to offer the maximum performance with minimal fatigue. Each punch also features a graduated punch tip that allows for greater precision in scoring for maximum consistency and a higher graft success rate.
The Feller punch is available in two standard diameters, 0.9 and 1.0 mm.
Powered FUE Tools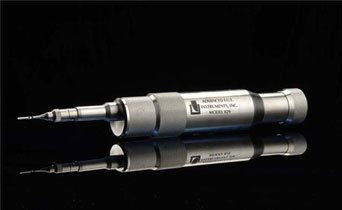 The AdvancedFue Motorized Extraction Device (The Feller Instrument):
Designed by Dr. Alan Feller, the Feller FUE instrument combines the essential FUE procedures (isolation, incision, extraction) into a single instrument. The use of a single instrument is designed to help hair restoration physicians work faster and more efficiently.
The proprietary design of this device overcomes suction and friction exerted on delicate FUE grafts by combining two critical technological advances: a proprietary "Modified Elastic Oscillating Mechanism" that operates with greater precision of movement and the patented AdvancedFue punch profile that reduces friction and suction between the outer edge of graft tissue and the inner wall of the punch. This results in less damage to follicle tissue due to twisting, friction or heat, and a significantly higher implant success rate.
The Proprietary Motorized FUE Tool:
Developed by Coalition member Dr. Jean Devroye in an attempt to improve the quality of results patients can achieve with FUE, this device was designed to improve the speed of the follicular unit extraction procedure while maintaining the same effectiveness as when performed manually by a skilled surgeon.
This new powered FUE device works by spinning alternatively with a low angular motion. This allows for fast and effective penetration of the scalp and extraction of the follicle while keeping the risks of damage to the follicles virtually nonexistent. Its speed is controlled by a foot treadle allowing for better hand control of the device.
Other Follicular Unit Extraction (FUE) Extraction Devices
Click one of the links below to learn more about each FUE hair transplant extraction device:
Powered SAFE Scribe
NeoGraft Hair Transplant
ARTAS Hair Restoration System
For a more comprehensive discussion about FUE extraction devices including advantages and disadvantages of manual versus motorized devices, visit "Follicular Unit Extraction: Manual Versus Motorized Extraction Devices"