Procedure detail
Dr. Christian BISANGA Age: 40 
Technique: STRIP + FUE 
Medication: No 
Donor densities: 70-80-90 FUs/cm2 
Hair Caliber: Medium Fine, slight wavy 
Miniaturization on donor area: No 
Previous surgeries: Strip surgery in the past 
Total FU used:- 6161 = 3986 Strip + 2175 FUE * FU breakdown:- 1s 1068 
2s 2719 
3s 1958 
4s 416 
TOTAL: 6161 
The goal of this patient was to cover all his baldness in one procedure, so he decided to combine both techniques.
Bald class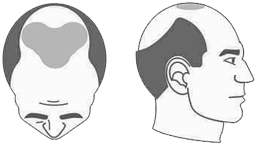 Norwood stage 6
The balding areas at the temples join with the balding area at the vertex. The band of hair across the top of the head is gone or sparse.