Procedure detail
BHR Clinic
Dr. Christian BISANGA
Age: 28
Technique: FUE
Medication: No
Donor densities: 70-80 FUs/cm2
Hair Caliber: Medium Fine
Total FU used:- 2502
* FU breakdown:-             
1s 400
2s 789
3s 1085
4s 228
TOTAL: 2502
That means 2502 FU = 6145 Hairs. Average = 2,45 hairs/FU.
The goal of this surgery was to rebuild the whole frontal area. The pictures show the result at 7 months so we expect more hair and caliber/volume within the next months.
Bald class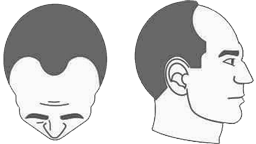 Norwood class 3
The earliest stage of male hair loss. It is characterized by a deepening temporal recession.