Procedure detail
BHR Clinic
Dr. Christian BISANGA
Age: 33
Technique: FUE
Medication: No
Donor density: 60-70 UFs/cm2, most 1-2 hairs (not many 3-4s)
Fine hair
Previous surgeries: No
Total FU used: 1.888
 * FU breakdown:-             
1s 400
2s 970
3s 518
TOTAL: 1888
 That means 1888 FU = 3894 Hairs. Average = 2,06 hairs/FU.
 Pictures show the process 0-7 months, so we expect more evolution in terms of calibre and coverage within the next months.
Bald class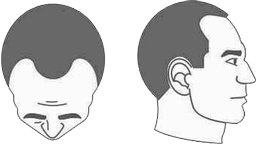 Norwood stage 2
There is a slight recession of the hairline around the temples. This is also known as an adult or mature hairline.