Procedure detail
FUE 0 - 8 MONTHS (18 MONTH UPDATE)
31 at the time of surgery. No regimen of medication pre surgery and therefore FINASTERIDE was recommended & prescribed post surgery.
GRAFT BREAKDOWN -
1s 660   - 660 hairs
2s 1314 - 2628 hairs
3s 724   - 2172 hairs
4s 302   - 1208 hairs
TOTAL 3000 GRAFTS - 6668 HAIRS
AVERAGE HAIRS PER FOLLICLE - 2.2
The patient wanted to address the frontal third thinning and re-create his temple points. His friend had surgery with us previously and obtained a great result which then influenced the patient to select Dr. Bisanga as his performing doctor.
PATIENT QUOTE AT 8 MONTHS -
"The growth has come along really well. See attached some progress photos and do let me know your thoughts. I guess there will still be a little left to grow, but I presume I am mostly there. I am very pleased with the results. " 
The patient´s donor was good density in areas, but as can be seen, above the ears was lower density and thus we were mindful of such data throughout the harvesting process.
___
UPDATE!!!
PATIENT QUOTE AT 18 MONTHS -
"I think the biggest compliment I could pay it is that I don't even think about my hair any more.  Before I was always anxious with the receding hairline, and now it's not even on my mind which is great. Thanks!"
Bald class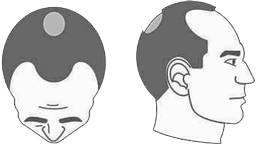 Norwood stage 3 Vertex
In terms of the receding hairline, stage 3 vertex balding is a less drastic version of stage 3.
However, people experiencing stage 3 vertex balding will also begin losing hair on the crown of their head. This often starts as one small bald spot.