About
Started noticing hair loss in my late teens, certain about it around 20.
Propecia and Rogaine on and off since 21.  Stopped both medications about 6 months before transplant. 
My Surgical Treatments to Date
1 HT (strip procedure) with Dr. Parsa Mohebi in Southern California.  2710 grafts.
My Non Surgical Treatments
Resumed Propecia and Rogaine around the same time as my HT procedure.  
Bald Class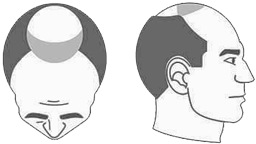 Norwood stage 5A
In stage 5A, the hairline continues to progress toward the back of the head.
propecia and rogaine combo has worked well.  but when i quit, i had catch-up hairloss like crazy.
propecia, rogaine, hair transplant.. any combination thereof.
I have MUCH more confidence in daily interactions and in myself in general.
If you are on the fence with hair transplant, be bold and go for it.  I used to always put it off due to various fears or stigmata... when I was at a low point in my life, I just decided to overcome those fears that held me back from hair transplant, and just DID IT.  I am so happy I did.