Procedure detail
This patient in his late 20's traveled from Australia to have his procedure with Dr. Hasson. His goal was to get as much coverage as possible. He was willing to live with a conservative hairline with recession in order to get coverage in the crown. The more conservative hairline was not necessary as Dr. Hasson was able give him the best of both worlds with 5051 grafts.
Breakdown: 1184 single hair grafts, 3533 doubles, 334 3-4 hair grafts. High density strip 34cm x an average of 1.5cm. 
Using Propecia at the time of surgery. This result is 2 years 6 months post-op.
Bald class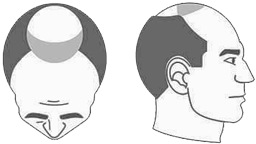 Norwood stage 5A
In stage 5A, the hairline continues to progress toward the back of the head.