Procedure detail
After a couple of trips to the clinic to see Dr. Hasson, this Vancouver area patient decided to proceed a few years after his initial visit. Bothered by the loss in front, the plan was to rebuild the hairline and frontal zone working back into the mid-scalp as far back as necessary.
FUE was the preferred method of choice as he wanted the option the cut the hair very short on the sides and back. Overall donor hair was above average with average texture. The 2 day FUE procedure totaled 4903 grafts. Day one yielded 2643 grafts of which 300 were single hair grafts, 1518 were double hair grafts and 825 were 3-4 hair grafts. Day 2 completed the task with an additional 2260 grafts. 1331 were doubles, 929 were 3-4 hair grafts. These after photos were taken at the clinic 1 year post-op. The first 2 post-op photos were taken at the end of day 1, the remaining 4 taken 2 days after day 2.
Bald class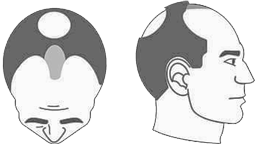 Norwood class 4
Characterized by further frontal hair loss and enlargement of vertex, but there is still a solid band of hair across the top (mid-scalp) separating front and vertex.