Procedure detail
Age: 36 years old
Level of alopecia: Norwood III - Diffuse.
Hair characteristics: White / grey, straight and thick hair.
Surgical plan: Hair line, entrances and central area have been restores in two days of intervention.
Grafts breakdown:
1 Grafts 523 = 523 Hairs.
2 Grafts 1272 = 2544 Hairs.
3 Grafts 1084 = 3252 Hairs.
4 Grafts 131 = 524 Hairs.
Grafts 3010 - Hairs 6843
Total: 3010 Grafts - 6843 cabellos.
Average: 2,27 Hairs/Graft.
Bald class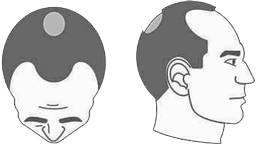 Norwood stage 3 Vertex
In terms of the receding hairline, stage 3 vertex balding is a less drastic version of stage 3.
However, people experiencing stage 3 vertex balding will also begin losing hair on the crown of their head. This often starts as one small bald spot.