Procedure detail
Patient's details
Sex: Male
Age: 33 years old
Level of alopecia: Norwood III - Diffuse.
Hair characteristics: Blond, straight and medium thickness hair.
Surgical plan: Hair line, entrances and central area have been restored in two days of intervention.
OBS: The patient's desire is to prioritize the frontal line and entrances in a conservative and natural way with generalized density increase.
Grafts breakdown:
1 Grafts - 473 = 473 Hairs.
2 Grafts - 1628 = 3256 Hairs.
3 Grafts - 858 = 2574 Hairs.
4 Grafts - 44 = 176 Hairs.
Folículos 3003 - Hairs 6479.
Total: 3003 Grafts - 6479 Hairs.
Average: 2,15 Hairs/Graft.
Bald class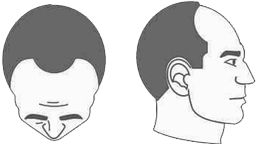 Norwood class 3A
The Norwood Class A patterns are characterized by a predominantly front to back progression of hair loss. These patterns lack the connecting bridge across the top of the scalp and generally have more limited hair loss in the crown, even when advanced.