Procedure detail
A 24 year old South Indian male presented with class IV Vertex Androgenetic Alopecia . He requested for a hair transplant procedure as the hair loss was taking a toll on his confidence at a young age .The potential for progressive hair loss and future hair transplant requirement were explained. 
3593 FUGs were transplanted using the strip procedure. 2000 grafts were given to the frontal region to cover an area of 39 square cm at an approximate 51% density, and 1593 were given to the crown area to cover 66 square cm at an approximate density of 24%.
He was willing to use oral 1 mg Finasteride and apply topical Minoxidil 5% to maintain resident hair.
Patient visited the clinic after 14 months and expressed great satisfaction with the result.
One hair grafts = 1366
Two hair grafts = 2161
Three hair grafts = 66
Total no. of grafts = 3593
Total number of hairs = 5886
Bald class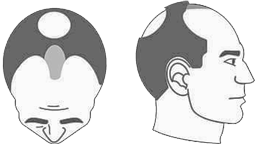 Norwood class 4
Characterized by further frontal hair loss and enlargement of vertex, but there is still a solid band of hair across the top (mid-scalp) separating front and vertex.