Procedure detail
A 27 year old Indian male decided to do hair transplant surgery for his hair loss which occurred as a result of Androgenetic Alopecia.The loss predominantly involved the frontal region along with thinning of the crown area. The patient was suggested oral Finasteride for the remaining hair including the thinning crown. He requested for dense packing.
3893 FUG were transplanted in an area measuring 70 square cm at an average density of 55 percent.
The patient was immensely happy with the result obtained at the end of 10 months
One hair grafts = 1127
Two hair grafts = 2399
Three hair grafts = 367
Total number of grafts = 3893
Total number of follicles = 7026
Bald class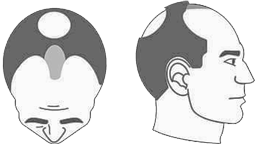 Norwood class 4
Characterized by further frontal hair loss and enlargement of vertex, but there is still a solid band of hair across the top (mid-scalp) separating front and vertex.