Procedure detail
As the months have gone by any issues or questions I have had Mani has always been super responsive and helpful. Seeing my hair grow has been such a confidence booster. The hats now stay in the wardrobe and styling my hair is so easy. And I'm only 7 months in so that's plenty more growth to come!

If you're considering having a hair transplant I would urge you to get in contact with Dr Mani. He always takes a personal interest in each of his patients. Have a consultation and see how you feel. It's the best decision I have made.
Bald class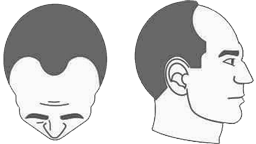 Norwood class 3
The earliest stage of male hair loss. It is characterized by a deepening temporal recession.