Apart from the great result, the most interesting thing to see is the detailed presentation of the healing of the recipient area from 0 - 38 days showing also how the hair sheds in about 3 weeks after Hair Transplant. The healing of the donor area is also demonstrated in detail.
The development of this FUE hair transplant result is shown from 4 months to 2 years after.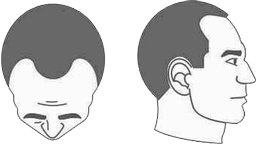 Norwood stage 2

There is a slight recession of the hairline around the temples. This is also known as an adult or mature hairline.

Patient gender Male Patient sessions 2 Patient surgery type Trplt Patient grafts 2149

Dr. Kyriakos Maras of HDC Hair Transplant Clinic presents an FUE Hair Transplant result of 2149 Grafts.