Procedure detail
This patient who is 67 years old had a strip many years ago in his home country to cover he crown. He wanted to restore his hairline and front. In the Beginning HDC was hesitating to proceed with Surgery due to age and thin hair on the donor with a strip scar. We lowered his expectations and we go for it after examining well his health history.
To our and his surprise, the result was great. He is now coming soon for covering the area behind FUE1. Many times, the positive thinking of the patient can help.
The careful punching of Dr Maras will enable the donor of this patient to give about an additional 3000 grafts on FUE2.
You can see the before, post op of donor and recipient, and the result 8 months after.
Bald class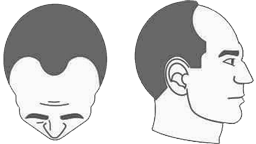 Norwood class 3
The earliest stage of male hair loss. It is characterized by a deepening temporal recession.