Procedure detail
This patient is 31 years old, living in Israel and was searching for the best Hair Transplant Clinic around his region, or in Europe in General. He made a short list of two clinics, HDC
Hair Clinic in Cyprus and another good Clinic in Turkey.
He was not interested about the low-cost Turkish Clinics as he is aware that in such clinics you take a big risk of reduced growth, wrong pattern and direction of grafts growth and a huge risk of donor depletion.
In the end he has chosen HDC due to:
·         its good reputation,
·         being situated in Europe and near to Israel,
·         offering him free accommodation for up to one week in HDC apartments
·         personal and extended post operation care for this whole week
·         and of course, taking no result related risk.
You can see more info on the importance of post operation care on this link
https://www.hairtransplants-hdc.com/blog/item/fue-hair-transplant-post-operation-care-important-or-not
The patient is very happy both with the result and the preservation of his donor and gave us permission to post his case.
His surgery was for 3000 grafts and in the end his decision to chose HDC Hair Clinic proved to be correct as you can see from his result below:
Bald class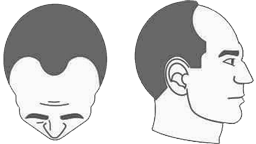 Norwood class 3
The earliest stage of male hair loss. It is characterized by a deepening temporal recession.