Procedure detail
This is a 36 years old patient. He is a potential class 5 but for the moment he only needed a hairline and hair around his front bundle, we call this front hair bundle as "Tsouloufi".
There you go, HDC Hair Clinic with Dr Maras as the assigned physician, transplanted 2900 grafts in his recipient area.
Excellent design, full growth, amazing naturality due to correct placing pattern and angulation. This is a typical result of Tsouloufi cases in HDC.
No damage whatsoever in the donor, after extracting with Manual punch, with leaving natural growing hair between each punch. Always the result should be evaluated for donor area too.
Remember to ask to see the post op and donor after photos with the result, before you proceed with your HT, in order to avoid traps as there are a lot out there.
See the result below, showing before, post op and after of both recipient and donor area.
Bald class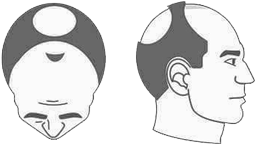 Norwood stage 5
Occurs when the connecting bridge of hair disappears leaving a single large bald area on the front and top of the scalp. The hair on the sides of the scalp remains relatively high.