Procedure detail
This patient was researching for some time what would be the best option for his hair transplantation. He is Greek, and he was reading the Greek and international Hair Transplant forums. After his research he decided to trust HDC Hair Clinic in Cyprus. The main decisive factors were the sustainable good results but not less the good management of the donor area, as he felt this was important for avoiding donor scarring and for having enough healthy donor left, for any future need for covering thinning areas.
He transplanted 2850 grafts and you can see below his before with hairline design, post op and after photos.
The photos were sent to the clinic by the patient.
Bald class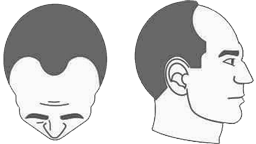 Norwood class 3
The earliest stage of male hair loss. It is characterized by a deepening temporal recession.