Procedure detail
This is a 39-year-old patient on NW scale class 5.
He trusted HDC Hair Clinic with Dr Maras for his Hair Restoration. As you can see his natural forehead was very small. But HDC wanted to give him a more conservative and natural look. So, we started the hairline about 1.5cm above his original one. This gave him a more natural look as you can see in the result.
What we explain many times to potential patients who probably shop around low-cost clinics, is that successful Hair transplantation has the medical part but also the artistic part. You need to choose a Clinic that can place the hair at the correct hairline Height, for now and the future, with correct angulation pattern and density. Just covering your bald spots is not enough. You pay for the experience the track history and the many successful results of a medical team.
And please pay attention when you examine results of a certain clinic. Make sure the doctor and the team that surrounds him, have achieved these results. And that the same team will operate in your case.
This an 8 months Hair Transplant result. The photos are kind of dark, but we will try to get new photos with better lighting in his next visit.
Bald class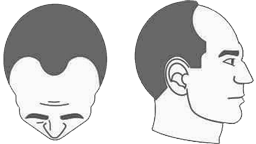 Norwood class 3
The earliest stage of male hair loss. It is characterized by a deepening temporal recession.