Discussion forum member "LatinLotus" received a 2097 graft hair transplant procedure with Dr. Cooley. 14 months after his surgical procedure and after using Propecia, he created a video showcasing his results on YouTube.
To see his results, view the video.
To follow along with his journey and to see before and after hair transplant photos, visit the discussion forum topic
by clicking here
.
To view his patient website with all his photos, visit his
hair loss website
.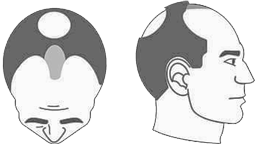 Norwood class 4
Characterized by further frontal hair loss and enlargement of vertex, but there is still a solid band of hair across the top (mid-scalp) separating front and vertex.
Patient surgery type
Trplt