Procedure detail
Patient Detail
Surgical Plan: Hairline reconstruction, density increase in the frontal and frontotemporal area. The surgery was performed in 1 day. 2812 grafts were implanted in total, 500 of them in the hairline
Patient ́s age: 30 years old.
The patient was using finasteride prior to the surgery. Below average hair thickness Number of Grafts Implanted: 2812
0.9 mm motorized punch was used for the extraction.
Graft Breakdown 1s: 525
2s: 1394
3s y 4s: 883
Overall hair/graft ratio: 1,99
Bald class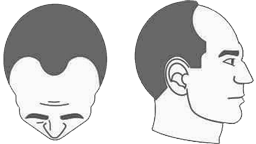 Norwood class 3
The earliest stage of male hair loss. It is characterized by a deepening temporal recession.