Procedure detail
RV is 42 years old Caucasian male with receding hairline and diffused thinning hair from front toward the crown,
His hair is black, wavy, coarse, density 80 FU/cm2, laxity 24%.He wanted to restore his hair line and add density further back.
He underwent hair transplantation, 3752 grafts were placed (1-hair=485 grafts, 2 hairs=2390 grafts, 3-hairs=664 grafts, 4-hairs=213 grafts) roughly total hair =8109.
Below are his before and only 6 months after with good result. He will return in 1 year for follow-up.
Bald class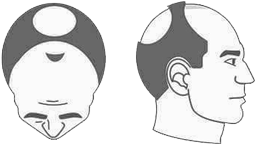 Norwood stage 5
Occurs when the connecting bridge of hair disappears leaving a single large bald area on the front and top of the scalp. The hair on the sides of the scalp remains relatively high.