Best Hair Transplant Doctors in Colombia based on patient reviews.
If you are looking for a hair transplant in Colombia , here is a list of the best doctors that are recommended by the world's largest patient community based on their proven history of excellent results and professional credentials.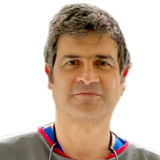 Hair transplant surgeon
Dr. Sergio Camacho consistently performs quality follicular unit grafting with dense and natural results in Bogota, Colombia. Dr. Camacho's services are affordable without compromising quality.
Bogota Hairlines
Cl. 108 #17A - 68 Bogota Colombia