About
Decided to create this blog as this site has been essential in my decision making process to undergo a hair transplant. I did about 2 years worth of research to get to this point, and never would have discovered Dr. Rahal without this site. Pretty sure I've read every Dr. Rahal blog entry on this site at least 2 or 3 times over since! I would like to give back to this community in some way, so I figure this blog would be a good way and maybe help someone else out make a wise educated decision.
My Surgical Treatments to Date
FUT with Dr. Rahal on June 27 2012 - 4546 Grafts.
1 Unit - 829
2 Unit - 2633
3 Unit - 1088
4 Unit - 1
TOTAL = 4546
Total Hairs = 9358 over 76 CM sqaured area focused on the front 2/3rds.
Strip size = 41.92 CM Sqaured
My Non Surgical Treatments
Bald Class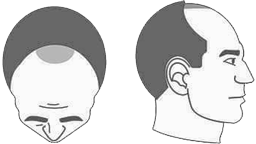 Norwood stage 4A
In stage 4A, a person will not experience a bald spot on the back of their head, but they will instead lose the dips in their hairline and have a deeper "U" shape when viewed from above.