About
My Surgical Treatments to Date
Session1: 2500 grafts FUT, Dr.Glenn Charles
My Non Surgical Treatments
Bald Class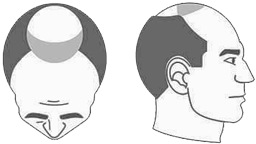 Norwood stage 5A
In stage 5A, the hairline continues to progress toward the back of the head.
Combining Propecia and 5% Minoxidil on a daily basis.
Going into my second visit with Dr. Glenn Charles in October
2013. My first visit was December 21st 2011, where I went in for a
2500 FUT graft transplant. Some of the pre-op pic's taken at Dr Charles office
are attached.  And the 14 months post-op
and current pictures.However, the results are debatable. I am not sure if the host area has been improved per the 2500 graft transplant. I am now undergoing another 2500 graft transplant over
the entire affected area per Dr.Charles recommendation.
Since the first transplant my hair loss somewhat stabilized that
is up until 8 months ago when I noticed some significant thinning.   At that time I decided to begin researching
the possibility of hair transplants.  I
had never really delved into the topic and the only thing I remember is seeing
those doll-looking grafts of old.  So I
was definitely stunned with the level as to which the techniques had advanced
and the results looked absolutely astonishing. 
I went to visit three different specialists, including Dr. Charles.  Two providers I was less than impressed with,
 and the other was Bosley.  The people there were friendly enough but the
reviews were less than stellar and their prices were simply illogical.
I selected Dr. Charles because of the many positive reviews
and results I was able to access through the Net, as well as the feeling I got
from meeting him in person.  Dr. Charles
is just wonderful - extremely down to earth, knowledgable, frank, and patient
in answering all of my questions.  I had
a tough time deciding between Dr. Charles and another provider where I live and
for whom I have the utmost respect. 
Aside from what I just wrote, I selected Dr. Charles because I thought
his pricing was fair in comparison to the level of expertise he brings to
table, his staff was extremely nice and has worked with him for many years, and
he did not expect me to shave the top of my scalp where he was implanting the
grafts. 
Prior to my first session, Dr. Charles was kind enough to
answer the myriad of questions that came to mind, and certainly as my nerves
increased closer to the day of the procedure. 
He began by giving my something to calm me down and discussed the places
in which he intended to implant the grafts. 
As you can see from the after photos, we selected the frontal area of my
scalp, we decided to thicken the existing hair line, and not create a lower one.
As for the procedure itself, the staff tried to make me feel
as comfortable as possible.  There are no
two ways around it, the anesthetic shots in the sides and back of the head really
hurt.  It was not a fun 5 minutes and I
quickly realized that I would not be a good hostage.  The staff was very gracious and made sure to
give my plenty of fluids.  I just sat
there and watched  a movies.  They ordered me lunch and by 3pm I was out
the door.  Dr. Charles makes sure you
leave his office with not only post-op instructions, but also antibiotics,
painkillers, a bottle of saline spray and a bottle of copper peptide
solution.  Mind you, I didn't have to pay
extra for any of these items.  He also
gave me his cell phone number and called me that night to make sure I was okay.