About
Well,
The story is more or less very common to most of us. Started losing hairwhen I was 20. At that time I was really scared that I would be completely bald by 25..just like my father. Thank God my bald scalp did not start manifasting itself by early 30s.Tried everything to stop it or reverse it but as someone once told me...the only thing to stop hair falling from your head is.... the floor.
Three years ago, I started using Minoxidil. In the beginning the results were very promising indeed. But over the last few months I noticed that my hairline..if I could ever say that I still have a hairline...was approaching the back side of my head.
I then considered a transplant. After countless of hours searching on the net, making enquiries, talking to various people and having visited a lot of clinics both in the UK and abroad, I was introduced to Dr Farjo.
To keep the story short... I decided to have a transplant at his clinic. The surgery took place last week...needless to say that I felt virtually nothing. Third day now, no pain, no swelling, no dizziness..OK the staples are a little bit annoying...however, the whole process was, a very pleasant experience..yes I dare say it, especially after I look at myself in the morror and saw all these nice spikes of hair coming out of my scald...i had forgotten what it feels like.
I know i am still at the beginning of a very "painful" process, in the sense that these spikes will probably fall and new hair will hopefully come out in 3-4 months...but having had an HT, I would definitely recommend the procedure and the clinic...
Fingers crossed then.
So more photos of me..soon
My Surgical Treatments to Date
I received 3800 grafts transplanted using the FUT method (2012).
Further 3000 grafts again by FUT (2014).
My Non Surgical Treatments
Minoxidil for more than 5+ years.
Bald Class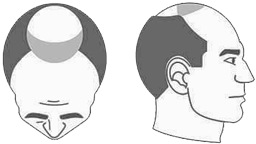 Norwood stage 5A
In stage 5A, the hairline continues to progress toward the back of the head.
I consider the HT with Dr Farjo a very pleasant experience... However, it is very early to talk about results..
Definitely a Hair Transplant..it is painless...maybe some minor discomfort for a few days...but I will tell you something....maybe the sweetest one in your life...
Only a bit more than 2 weeks after the procedure....and I feel better...I look forward to the results
If your bald head bothers you...Do not hesitate. Do your research talk to people and go for it!!! It feels great...But be careful there are a lot of cowboys out there.