About
Like many of the fellas in hair transplant land, I started losing my luscious locs at about 19. It was slow and annoying at first, however, it progressively got worse and became more noticeable. That's when I started searching for "solutions."
I've subjected myself to what can only be called scientific experimentation. I've tried laser lights, over-the-counter treatments such as Rogain and, of course, I jumped on the propecia train. Nothing helped my cause unfortunately, and I'm sure I've financed more than a few porsches.
In early 2012, I finally had enough. It was time for me to do something about my hairloss. I'd wasted far too many hours in front of the mirror, and honestly I'm tired of looking at before and after pictures of my balding compadres. It can drive a person insane – luckily the online community is nothing short of outstanding.
On July 2, 2013 I received a hair transplant from the wonderful team at the Rahal Hair Transplant Institute.
My Surgical Treatments to Date
One hair transplant to date, performed by Dr. H. Rahal at the Rahal Hair Transplant Institute. My procedure consisted of 3,435 graphs using the FUT transplant method.
3,435 - Graph count
719 - 1 units
1,931 - 2 units
786 - 3 units
My Non Surgical Treatments
I have used a combination of rogain, propecia an proscar. None of which had a noticable impact on my hair.
Bald Class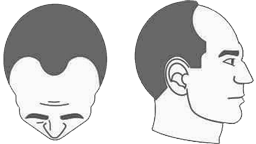 Norwood class 3
The earliest stage of male hair loss. It is characterized by a deepening temporal recession.