About
Like many men I began experiencing hair loss in my 30's. I had typical male pattern baldness and loss quite a bit of hair in my crown area as well. I began searching for a solution to my hair loss as I was nearing my career as a public school administrator. I was a Biology teacher for ten years and served in many capacities after that as a school administrator. I retired as a district Instructional Supervisor in the summer of 2011 at the age of 50.
After a lot of thought, research, and consultation with my wife (who is a hair dresser), I decided to seriously consider surgery to restore my hair loss. Going through any surgery was no big deal for me but I absolutely did not want FUT surgery and have a lengthy scar on the back of my head. If that were the only option I may have considered it, but over time I kept seeing more and more very good results with the follicular unit extraction process (FUE). I ultimately decided to go with Dr. Michael Vories for the surgery. I liked the information on his website and especially the before and after photos and videos that were available. Also, I felt very comfortable with him because we had a lot in common. He was from a small town near Louisville Kentucky and we went to Eastern Kentucky University at the same time back in the early 1980's.
My Surgical Treatments to Date
I visited Dr. Vories and Carolina Hair Surgery in Charleston South Carolina in September of 2012. I wanted a lot of hair but didn't want to make multiple trips. Because I had sufficient donor hair, Dr. Vories decided to do a large FUE surgery over several days! I had 5,125 grafts completed in the four days. My results have been excellent!!! I created a blog and chronicled the whole event by posting a narrative and photos during the first 30 days post-surgery. I have kept my blog up to date for the last 17 months posting before and after photos nearly every week. My blog has been viewed over 24,000 times and men and women and hair surgeons from all over the world have contacted me regarding my results. I will be posting many of these pictures on this website for you to see.
Because I feel so strongly in the FUE process, I will be spending a lot of time on this website talking with others regarding my results and responding to others posts. I hope with my experience and educational background, I can offer insight into the process and can certainly answer questions about choosing the right doctor, the surgery, the recovery, and exactly what you can expect each day, month, and year! I'm looking forward to being a member of the Hair Transplant Network and I hope I can help others as they make this very important decision regarding hair surgery.
Bald Class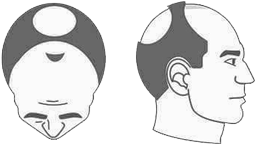 Norwood stage 5
Occurs when the connecting bridge of hair disappears leaving a single large bald area on the front and top of the scalp. The hair on the sides of the scalp remains relatively high.
Like most men I never wanted to lose my hair.  I never was insecure about it but never really considered surgery because I didn't want the FUT scar!  However, I was quite intrigued by the FUE process and decided right away...this was the route I would go!
I never took any medications or ointment treatments for hair loss prior to surgery.  I'm very happy with my surgery and still do not take any medications. Most medications have un-proven results and I have no desire to take them.
I am very happy with the results.  I've kept my own personal blog for the past 18 months showing before and after photos and narratives describing my experiences.  My blog has been viewed over 26,000 times.
I am a huge advocate for follicular unit extraction (FUE).  The surgeon can remove any hairs from your donor area and relocate them.  I did not want the FUT 8 inch scar on the back of my head!!!!!  FUE is the only way to go!!!!
Everyone tells me I look 10 years younger.  It is very obvious from the photos on my personal blog site.  My before and after photos have been used on the national websites (www.neograft.com) which created the machine that extracted the hairs from the donor area. 
Find a doctor your comfortable with and decide the process that is best for you!  In my case FUE was the only way to go.  There's not a visible scar on my head and folks are shocked to see my before and afters!!!