About
I'm a 33 year old guy who always had super thick hair. I even remember being in high school wishing it would thin a little bit. Well, I got my wish. I didn't even notice my diffuse pattern hair loss until about 2 years ago, as it just kind of snuck up on me. I immediately got on Finasteride and began taking 5 mg tablets, breaking them into quarters, and taking 1 quarter pill each day. I also immediately began using rogaine 2 times per day.
I had great results, stabilized my loss and even regrew a good bit of hair with the above treatments. I got to a point after about 1 year where I just wanted a little more hair. I then decided to look into a transplant. I found Dr. Mike Vories through a basic internet search, and scheduled a consultation. He told me he could restore my hair with 1500-2000 grafts, so I set up a surgery date for 9/14.
I'm currently at my 6 month mark from my surgery, and things are starting to look up. I'm anticipating some thickening of grafted hairs in the next few months.
My Surgical Treatments to Date
I had 1500 FUE grafts resulting in 3000ish hairs in September of 2014. My doctor was/is Dr. Vories in Charleston, SC
My Non Surgical Treatments
Rogaine liquid at night, Rogaine foam in the am, and name brand proscar (1/4 tablet each day)
Bald Class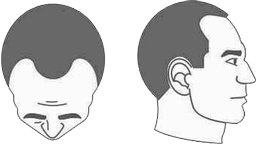 Norwood stage 2
There is a slight recession of the hairline around the temples. This is also known as an adult or mature hairline.
Hair loss has greatly effected my self confidence
Rogaine, Proscar, and hair restoration have all worked well for me.
So far!! (fingers crossed)
I would recommend getting on meds as soon as you notice any hair loss. I waited a little later than I should have, but am so glad I got in them when I did.
If I get the results I hope for, they will change my life.
Be patient with treatments! They take commitment and time to work.