About
First, let me offer to help you if you want to email me, I know where your head is at and I am happy to give you my insight. When I first started considering doing something about my hair, I was extremely nervous and researched on the web almost daily for months or maybe even more than a year. Now, having just finished my second procedure, the best advice I can give is: don't waste your time, just do it!
As long as you have the right surgeon and follow the instructions, you are going to have a great result with minimal suffering.
If you live in the area, or can make it down to Chicago for a little while, go to Dr. Konior. He is going to do a great job and you wont regret it. Just be sure to book in advance because the man has a busy schedule. And when you see him, tell him Rob said "hello"!
I'm sure there are other good surgeons out there, but I can guarantee this one.
My Surgical Treatments to Date
My first procedure was a strip transplant of 2,070 grafts with Dr. K in 2009. My second procedure was for 1,250 grafts of FUE with Dr. K October 2015 and I went back just four days later to have him fill in the scar from my first op.
The doc can make a recommendation for you and tell you the pros and cons for each but, if you asked me, if you have a lot of area to cover, you probably want to start with strip and then use FUE to fill it in at a later date. As far as I know, you can get a much better yield through strip and you can get a lot more done in one procedure.
My Non Surgical Treatments
Propecia for 1 year, just quit because it was messing with me sexually and I didnt notice any difference in my hair (im not thinning in the back). I will start using Rogaine a week after this op I just had so I can try to combat further loss. Hopefully the R wont cause the same side effects.
Bald Class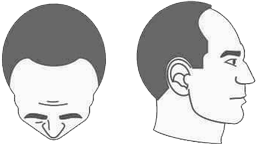 Norwood class 2A.
The class A variation of the Norwood scale is a slightly different and less common progression of hair loss. The main differences are that the hairline recedes back uniformly, without leaving an island of hair in the middle, and there is no bald area at the vertex. Instead, the hairline progresses directly from front to back.