About
I've always had a relatively big/prominent forehead and have experienced male pattern baldness to about a Norwood III, which only serves to make matters worse. At about 30 years old I started propecia to help stabilize the hairloss and now at 35 this mostly seems to have worked. Recently i've also added rogaine to the regimen to see if that would improve the frontal thickenss at all. While the rogaine might have done a little bit, it's become clear to me that I would need a hair transplant to achieve the results I desire in terms of adding some density to the front and filling in the corners.
My Surgical Treatments to Date
Just underwent my 1st hair transplant procedure with Dr. True of True & Dorin.
~2100 grafts (don't have exact hair count but Dr. True said I averaged >2 hairs per graft so 4000+ hairs) to the frontal and temporal regions.
My Non Surgical Treatments
Propecia, Rogaine
Bald Class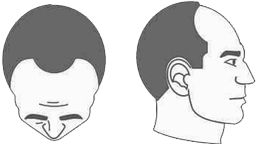 Norwood class 3A
The Norwood Class A patterns are characterized by a predominantly front to back progression of hair loss. These patterns lack the connecting bridge across the top of the scalp and generally have more limited hair loss in the crown, even when advanced.