About
Greetings community. I am a 25 year-old male who has been dealing with the balding process since I was 18. Male pattern baldness is extremely common in my family (father, uncle and grandfather all fully bald in late 20's) and it seemed inevitable that I was on the same path. I began to see my receding hairline take shape in my late teens/early 20's. As I was very self-conscious about this issue I immediately sought products like Rogaine and other herbal pills.
When I knew that I could not deal with the oily process of Rogaine I began taking Propecia when I was 20 and I am still using to date. While my receding hairline is deep and noticeable, there is no doubt that the Procecia has slowed this process and also prevented any major thinning behind my hairline. I can honestly say that without starting Propecia at such an early age I would be much worse off that I am today. As I mentioned, this whole process was very sensitive to me, and I began researching hair restoration over 5 years ago. At the time I was still skeptical and unsure if I was ready to take on this procedure at such an early age.
I actually sent photos to Dr. Konior's office when I was 21 and was given immediate feedback. At the time I was informed that my best option was to take some time as I was still very young and it would be beneficial to establish some progress with the Propecia. Over the next few years I used cosmetic products Cuvre and Toppik to conceal my receding hairline. While this was a daily time commitment, I was able to maintain a young and natural look that went pretty much undetectable to close family and friends. I am aware that this cosmetic solution does not work for everyone, but for me it was a tremendous success.
I am going to be posting pictures of my receding hairline through my transplant procedure, however I will see if I can post some of my normal pictures in case anyone is curious about the cosmetic look (Along with the transplant procedure, if the cosmetic portion is something that you are curious about, have any questions, or would like to see more pictures, please do not hesitate to email me).
My Surgical Treatments to Date
I decided this year that I wanted to investigate hair transplantation further, and I eventually scheduled a consultation with Dr. Konior. Let it be known that while this is my first time posting on this blog, I referenced the "Hair transplant Network" countless times over the passed few years, and I know for a fact that I would not have been able to make this final decision without this website, so thanks to all.
During my consultation Dr. Konior and I discussed my expectations and the realistic possibilities given my hairline and donor region. I was very lucky: One, because I had been on Propecia for many years and already slowed the balding process. Two, given my heritage, I have an extremely healthy donor area with very dense grafts. Three, I was willing to fix and even out my established receding hairline, instead of trying to achieve a lower hairline that I had at a younger age.  I truly appreciated this consultation because Dr. Konior approached every question and comment with a realistic and honest answer. Any skepticism someone might have about being taken advantage of during this process needs to completely throw that thought out the window when you are dealing with Dr. Konior. This doctor is has a true passion for what he does and made me feel very comfortable and knowledgeable of all aspects of this procedure.
I cannot even begin to sing enough praises in regards to Dr. Konior and his staff up to the date and the actual day of my procedure. Everyone at this office goes above and beyond to make sure you know that you are their number one priority. I was scheduled for 2000 grafts (Due to my donor region having great density, I ended up receiving a generous amount of extra grafts, and mostly because Dr. Konior is an artist at what he does and he wanted to perform what he thought would be the most optimal outcome. I do not want to endorse that receiving extra grafts happens in every case, however I do want to note that this is another example of the generosity and care that Dr. Konior's practice exemplifies). As such, this was a full day procedure, and I am not sure how it works with other doctors but I was the ONLY patient that day. Dr. Konior and his staff did not take any breaks to leave the room for someone else's needs. I was attended to at all times, which made for an extremely relaxing and comfortable procedure (a few tablets of volume also helped with that). I could not be more pleased with my decision to go ahead with the procedure, and even more content that I chose to do it with Dr. Konior. I will post before and after pictures and up-to-date photos as hopefully my hair decides to grow in. Please contact me with any questions or concerns that relate to my story or any thing else that might relate to information on this blog. Thanks
** I will have photo's uploaded to go along with post soon.
- DonKing (went with the ultimate head of hair for my title)
My Non Surgical Treatments
See cosmetic procdures I used prior to surgery in my story.
Bald Class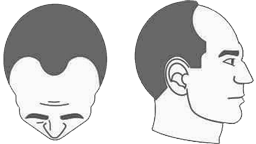 Norwood class 3
The earliest stage of male hair loss. It is characterized by a deepening temporal recession.