About
My hair started thinning around 25 years old.  It was in the crown area and not in the front.  I could never see the thinning but when I would see it in the mirror it made my heart sink.  I have strong genes and unfortunately this is one of the genetic codes I could not get around.  Due to a major accident I have a massive scar on my head that is completely covered up by my hair.  As my hair thinned it became more and more disfiguring.   I take very good care of my body and have a lot of pride in my looks so this was horrifying day by day.
It so happens that I have the most incredible girlfriend in the world. She started looking into hair transplant surgery and I realized that it was not a scam.  We started out by going to Dr. DeYarmon in San Diego and it was like going to a used car salesman.  When we started discussing price he told me that it would be around $10, 000-$14,000 for 3,000-4,000 grafts (at the time I didn't know the difference).  When I said that I could only come up with $6,000 at the moment he told me that he would do it but would not give a specific amount that would be transplanted, just that it would be fuller.  When asked how much "fuller" he said fuller and walked out of the room leaving me with his "assistant".  I felt terrible and knew that he would do a lackluster job if he was so uncompassionate.  Essentially it was good cop, bad cop between him and his assistant.  Him being the bad cop.
My lady did not stop though.  She found Dr. Carman in La Jolla, CA and when I sat down with him he explained the whole process and what would be best over the period of my life since I am young and even though I am taking finastride I will probably lose a little more. He explained every one of my questions compassionately and made me feel completely comfortable.  His staff was extremely professional and some of the nicest people you could meet.
The day came and Dr. Carman did 2,344 grafts.  It was a painless procedure, but the astonishing part was not only Dr. Carman's expertise but he did not shave my head so I can return to work and his flawless stitching (I'll let the photos speak for themselves).  If I did not point out the donor site that day to you, no one would have been able to see it.  Also, there was practically no redness or bleeding whatsoever. 
It has only been a week so I will keep you updated with photos each month, but I can not emphasize enough Dr. Carman's expertise and professionalism from cradle to grave with this process.  Dr. Carman has a background in plastic surgery and it shows all the way through in his attention to detail.
I know a lot of guys out there are reading this because they have come to their cross roads in life.  A feeling of helplessness and despair. Where each day goes by and you know it is going to be worse then the last because (let's be frank, baldness is not sexy…maybe a shaved head is for some but baldness with hair around the sides is not).  It is not something you have to be resigned too.  This is legitimate enough that it has restored my confidence enough to know that it is going to get better from here.
And to Pat that started this site, let me thank you from all of us that have read from this site.  This legitimized something that a lot of us went to the computer in hopes of finding SOMETHING, ANYTHING to slow that process.  We all give you our deepest thanks.
My Surgical Treatments to Date
 1 hair transplantof 2,344 grafts with Dr. Carman in La Jolla, CA.
My Non Surgical Treatments
Finastride and Rogain.  Eating right and taking care of myself with proper nutrition and vitamins.
Bald Class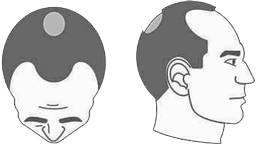 Norwood stage 3 Vertex
In terms of the receding hairline, stage 3 vertex balding is a less drastic version of stage 3.
However, people experiencing stage 3 vertex balding will also begin losing hair on the crown of their head. This often starts as one small bald spot.
It was absolutely devastating to me.  Due to a large scar atop my head that my hair completely covers it means the difference between me being very handsome (yes, I said very! lol) and absolutely disfigured.
Rogaine and finastride slowed the process for about 2 years.  I have had my first HT and even the little hairs transplanted have made a huge difference (as they have not fallen out yet) but it gives me hope again.
So far I am very happy even though it is still in the early stages. I am astounded at Dr Carman's expertise with the donor site.  I have many scars over my body (I'm an adventurer and it takes a toll) and without questions his stitching is the best I've ever had and I would put money that his could rank at the top with any doctor.  Kudos Dr Carman!
Rogaine & Finastride helps.  When it is time take a look at hair transplants sooner then later.  Even if you don't use it right away at least it will be there when/if you do.  I am a strong believer in the adage that an ounce of prevention is worth more then 5 pounds of the cure.
So far so good.  It has given me hope again.  I enjoy knowing that I may be able to go outside the house without a cap or bandana.  It is hard to take your lady out to eat somewhere nice or enter a board meeting knowing that people are focusing on one flaw.
Just like anything else, ask questions from professionals and people that have went through it. Get prepared and if you have to use it then you are good to go, if not even better because it will be no sweat off your brow in lieu of hair falling from it.