About
I first noticed thinning in my mid 20's.  I had very thick hair all my life so glimpses of a shiny scalp in pictures was a little unnerving.  I continued to thin consistently in to my early 40's.  I considered surgery for years but struggled with the images of "barbie doll" transplants that I had seen in my youth.  In late 2013, I had an especially frustrating morning playing "fill in the blanks" with my hair.  I spent the next month doing extensive research on hair restoration procedures and physicians.  I opted for Dr. Rahal and booked a consultation.  I had my FUE procedure on March 26th, 2014.
My Surgical Treatments to Date
March 26th, 2014 - FUE session
1 Unit Grafts: 517
2 Unit Grafts: 1266
3 Unit Grafts: 706
4 Unit Grafts: 57
Total Grafts: 2546
Total Hair: 5395
Size of the recipient area: 57 square centimeters
Surgeon: Dr. Hussain Rahal
My Non Surgical Treatments
I began a non-surgical wellness/hair supportive protocol 3 months before the surgery.  It involved the following:
Multivitamin - every morning
Saw palmetto - every morning
Biotin - every morning
Silica - every morning
Vitamin D - every morning
Vitamin E - every morning
Nizoral shampoo - twice weekly
Nioxin shampoo - 5 days a week
Nioxin conditioner - 5 days a week
Bald Class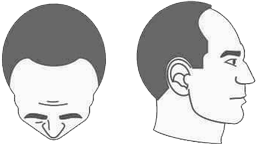 Norwood class 2A.
The class A variation of the Norwood scale is a slightly different and less common progression of hair loss. The main differences are that the hairline recedes back uniformly, without leaving an island of hair in the middle, and there is no bald area at the vertex. Instead, the hairline progresses directly from front to back.
It sucks.  I'm not a super model but I definitely look better with hair.  Losing my hair truly eroded my confidence.

I hadn't used any treatments prior to my surgery.

My FUE surgery was March 26th, 2014.  My experience with Dr. Rahal and his staff was completely positive.  What a wonderful group of people.  Dr. Rahal has cultvated an environment in his office that makes you feel very welcome. 

I have limited experience at this point but, 5 days in, I'm feeling good about my FUE surgery.

At this point, it has just lowered my bank balance.  I'll keep you posted.

Stop thinking about doing this and just do it.  Research is very important.  I waited too long.  Don't make the same mistake I did.