About
Started losing my hair at age 19 which is 12 years ago, i've been on minxidil and propecia ever since which has held my loss steady. Had a 800 norton fue session in crown 4 years ago that grew to a reasonable stanadard and changed my life for the better but was in no way the finished article.
Just had 5300 grafts by Dr hasson last week march 2011
My case will be ace for diffuse thiners as I have 50% terminal hairs all over the top and 50% gone replaced with minox hairs so I have full coverage but it's fuzzy and thin throughout the full top of my head from hairline to back crown. I'll put pics up of before and keep pictures of what happens as I've never seen a case like mine where 5300 grafts have been planted between so many existing hairs.
Ok I've just arrived back at my hotel after surgery about a hour ago and i'm not tired so i've decided to write this up.
Firstly you only have a limited donor supply so you need the best surgeon using it because no matter how rich you are when it's gone it gone, I spent 9 years studying surgeons and it's always been dr hassson that I rate the best so as soon as I got the money I went for it.
The Hasson and Wong machine is awsome to watch they have plenty of staff doing stuff all the time so no time is wasted and all the girls know there jobs backwards and are so nice to you it's truly amazing to meet so many caring people, you can really feel and see they want a top result for you and it makes you very relaxed.

Dr Hasson in surgery is a genius, how he takes so much strip out and staples you back up without hardly any blood leaking out of you is beyond me and the recipient execution is top quality. As a person he is extremely humble, a perfectionist and all round good guy. I am a extremely inquisitive person and was asking him loads of questions but he answered me all day, usually I start to pee people of but he was very patient with me and put me in great ease.
Joe aka jotronic i'm sure I dont need tell you about him but he's a first class genuine guy with a wealth of knowledge who's always been there for me since I met him on here 9 year ago he simply wears his heart on his sleave. Same goes of Christina on reception.
Well that's it results time in 12 month but no matter what happens I put my self with the best and that's all you can do really so fingers crossed for big hair.
I have full shaved skin head now so the dr could make sure existing coverage was not hit in the ht so i wont see any shockloss.
My Surgical Treatments to Date
1000 grafts fue Dr Theo Vernikos
5300 grafts strip Dr Victor Hasson
2160 grafts strip Dr Victor Hasson
My Non Surgical Treatments
Propecia
Minoxidil
Bald Class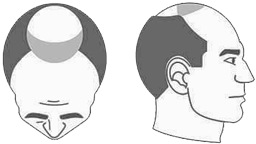 Norwood stage 5A
In stage 5A, the hairline continues to progress toward the back of the head.