About
I am in my late 20's with my first procedure on the horizon with Dr. Vories in South Carolina. I've done my research; weighed the pros and cons of the different extraction methods; had consultations with a few different surgeons and now I'm finally ready to go through with (let's be honest) one of the biggest decisions of my life.
I'm a NW 3/4 working my way towards a NW 5/6. I'm aware that I'll likely need another procedure down the road but I'm on finasteride daily and feel that my hair loss has at least slowed to the point that I can get ahead of it. I've also been using rogaine foam for the last 5 months and it's helping. Side note, I actually started and stopped using it in my early 20's because I couldn't stand the chemical smell of the old stuff. It wasn't until earlier this year that I discovered that they finally came out with a non-scented formula (I think all the way back in 2010). Sensitive noses rejoice!
Anyway, as mentioned, I consulted with a number of recommended and coalition surgeons. My only distance limitation was that my procedure would be done in the States or Canada. My first consultation took place when I was 23. It was for a strip procedure but I ultimately decided to wait due to my age and for financial reasons. At 25, I decided to shave my head. That was always my planned solution due to the history of baldness in my family and I've been young enough and lucky enough to have a nice shaped head to make it seem elective but the look has just gotten stale. It wasn't until I made my second consultation earlier this year and I was required to grow it out that I discovered where my level of baldness was at. I had mixed emotions. On one hand, my thinning has progressed enough that I finally know where I'm heading. On the other hand, my thinning has progressed enough that I finally know where I'm heading.
So I had two more consultations before deciding to go with Dr. Vories. FUE was a big driver in my decision since I prefer to wear my hair short and both he and his clinic have been very responsive to all my questions. We're shooting for 3,500 grafts over 2 days in early August.
My Surgical Treatments to Date
3,500 Grafts with Dr. Vories Aug-6/7-2013
My Non Surgical Treatments
1.25mg Finasteride Daily
Rogaine Once a Day
Nioxin System 2 Shampoo and Conditioner
Bald Class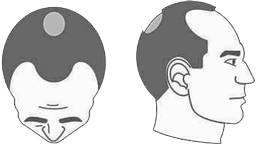 Norwood stage 3 Vertex
In terms of the receding hairline, stage 3 vertex balding is a less drastic version of stage 3.
However, people experiencing stage 3 vertex balding will also begin losing hair on the crown of their head. This often starts as one small bald spot.