Procedure detail
Back in 2011 this patient came to see me looking to have a hair transplant. At that time, he was similar to a class 3 on the Hamilton Norwood hair loss scale.  His goal was to rebuild his hairline and add density to the frontal 1/3 of his scalp. Taking his age and hair loss into consideration we came upon an agreement for what would match his expectations. After establishing his medical history and understanding the progression of his hair loss, I diagnosed his condition as Androgenetic Alopecia (male pattern baldness), ruling out any other possible dermatological or medical conditions which can cause hair loss. The patient's goal was well suited to his needs and therefore I planned the surgery accordingly. At that time, I did 2,105 grafts with a FUT surgery.
He returned to see me in 2018 for a second surgery. At that time, his hair had slightly thinned over the last 7 years and was looking for more density. I determined it would be better to have a FUE procedure this time. He wanted to move forward and therefore we proceeded, augmenting his hairline and adding more density to the frontal ½ of his scalp with 2,505 FUE grafts. The photos presented are a series of pictures spanning from prior to his 1st procedure to 1-year post-op after his 2nd procedure
Bald class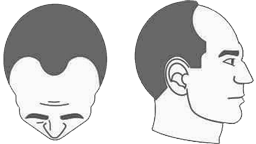 Norwood class 3
The earliest stage of male hair loss. It is characterized by a deepening temporal recession.