Procedure detail
This 60 year old hair restoration patient presented with loss of definition/thinning of his frontal hairline. At 7 months post-op he presents very pleased with his results to date.
At seven months post surgery, we tell patients that in general they can expect about 70% of the grafts to have grown in, ie, they can expect another 30% to grow in in the next five months. This case is no different.
Graft count: One's = 1040; Two's = 967; Three's = 10.
Bald class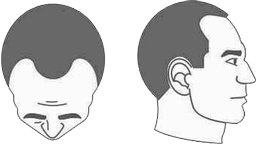 Norwood stage 2
There is a slight recession of the hairline around the temples. This is also known as an adult or mature hairline.