Procedure detail
The challenge with this patient was a relatively low yielding donor and large area "needing" grafts. Appropriate placement of grafts in a design pattern that will mimic nature, while maximizing their full potential for growth as non-DHT-sensitive follicular units is a cornerstone in creating artwork that appears natural. 2291 FU grafts were harvested via a conservative strip excision procedure, which assures consistent high quality graft survival and growth for the long-term performance benchmark.
The photos are from his 9 Month Post Op visit, wherein approximately 80% of the hair has grown in.
Bald class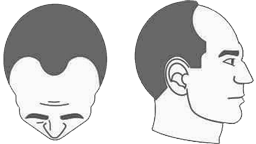 Norwood class 3
The earliest stage of male hair loss. It is characterized by a deepening temporal recession.