Procedure detail
This is a 42 year old who presented with loss of his
frontal hairline and frontal forelock. He had been wearing his hair longer in
order to cover the areas of hair loss, but this was becoming too much for him,
maintenance-wise. This is a shot of his results at the early stage of four
months. He was very pleased as for the first time in "forever" he was able to
style his hair shorter. Total FU grafts: 592 ones; 2101 two's; no three's or
fours. At this stage he probably has about 35% in growth.
Bald class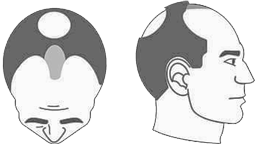 Norwood class 4
Characterized by further frontal hair loss and enlargement of vertex, but there is still a solid band of hair across the top (mid-scalp) separating front and vertex.