Procedure detail
This is a patient who first came to see me in 2015 and who wanted to thicken up his frontal scalp. He was very happy with his results but over the next four years felt that his hair was continuing to thin, particularly in the mid scalp area and in 2019, we did a smaller procedure to fill in the mid scalp. 
In 2016, he received 784 single grafts, 1183 double grafts, and 324 three-hair grafts, for a total count of 2291 grafts to the frontal scalp via FUT. In 2019, he  received 652 single grafts, 845 double grafts, and 117 three hair grafts, for a total count of 1618 grafts to the mid scalp via FUT. The post op photos were taken one year after the second surgery to the mid scalp. 
He is very happy with the increased density of the transplanted areas. The pre op photos are from 2015 and the post op photos are from 2020.
Dr.  Nakatsui
Bald class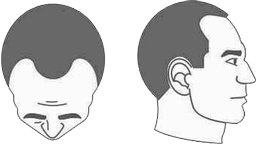 Norwood stage 2
There is a slight recession of the hairline around the temples. This is also known as an adult or mature hairline.