Procedure detail
This was a patient who originally came in wanting to improve his hairline and frontal scalp. We transplanted 556 single grafts, 1252 double grafts, and 319 three hair grafts, for a total count of 2127 grafts. These photos were taken a few weeks ago and represent approximately 1 year post surgery.
He is very happy with the results. We may consider doing more transplantation behind the work we have done already in the future.
Bald class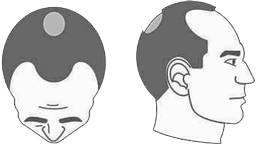 Norwood stage 3 Vertex
In terms of the receding hairline, stage 3 vertex balding is a less drastic version of stage 3.
However, people experiencing stage 3 vertex balding will also begin losing hair on the crown of their head. This often starts as one small bald spot.