Procedure detail
This is the case of a 47 year old male- fit and healthy otherwise, who had 2000 FUE grafts transplanted 18 months ago. He has a Fhx of NW 5 and his exam showed some recessions in his hairline and some mild thinning in his mid scalp region. We had originally planned for him to have around 3200-3600 Grafts to address both areas, but was reluctant to proceed with more than a one day session of around 2500 grafts. We opted to delay any further Mid scalp work for another session but commenced him on finasteride to slow down any progression. 
In total he had 2800 FUE grafts. He had on average 2.8 hairs/graft. 
400 refined single haired grafts were utulized for the hairline. The remaining were placed in the frontal zone and anterior midscalp to blend things in. 
He has always been shaving his head so apologies for not having pre-op photos with his hair long. 
Bald class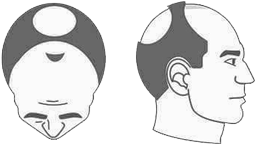 Norwood stage 5
Occurs when the connecting bridge of hair disappears leaving a single large bald area on the front and top of the scalp. The hair on the sides of the scalp remains relatively high.