Procedure detail
This gentleman is 39 year old with a NW4-5 Family history. he has been on finasteride for few years before presenting to us. His main concern is an obvious recession along his hairline/mainly temple recessions that are extending into his Mid scalp zone. His frontal tuft is strong and intact. 
He underwent surgery 9 months ago to add density to his frontal zone. 2322 FUE grafts were transplanted. His average hair/follicle was 2.85. 400 single hair follicles (refined) were used for the hairline. The latest photos I have personally for him are those 9 months after surgery.
Bald class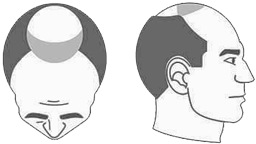 Norwood stage 5A
In stage 5A, the hairline continues to progress toward the back of the head.