Procedure detail
A 35 years old patient, suffering from genetic baldness.
NW class: VI Baldness.
Number of sessions for full coverage: 2 Sitting
1st sitting:  2016
Total Number of Grafts Implanted at first sitting: 3900
Technique Used: FUT 
Patient Result: Post-Op. 12 Months
Bald class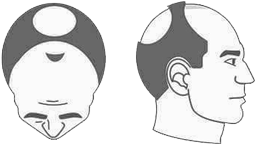 Norwood stage 5
Occurs when the connecting bridge of hair disappears leaving a single large bald area on the front and top of the scalp. The hair on the sides of the scalp remains relatively high.