Procedure detail
A 35 years old patient, suffering from genetic baldness.
NW class : V Baldness.
Technique Used : Combine FUT + FUE Method
Total Number of Grafts Implanted : 3950
We are hereby presenting the hair transplant results of the patient after the 13 month.
Bald class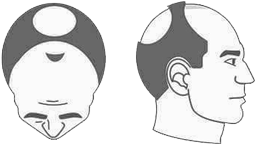 Norwood stage 5
Occurs when the connecting bridge of hair disappears leaving a single large bald area on the front and top of the scalp. The hair on the sides of the scalp remains relatively high.