Procedure detail
A 38 years old patient, suffering from genetic baldness.
NW class : VI Baldness.
Donor : Exceptionally dense
Technique Used : FUT Method
Total Number of Grafts Implanted : 4700
We are hereby presenting the results of the patient after the 12 month of the procedure.
Bald class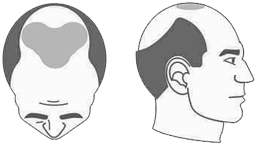 Norwood stage 6
The balding areas at the temples join with the balding area at the vertex. The band of hair across the top of the head is gone or sparse.