Procedure detail
This patient is a 66-year-old transgender female who desired a more feminine appearance to her hairline, frontal zone, and fronto-temporal angles. She had 2771 follicular unit grafts placed 15 months ago at our Portland Hair Restoration Center. Her post-operative course was uneventful. She returned to show us her progress. Her hair is growing out very well and she is extremely happy with the results so far. This has drastically changed her appearance, and according to her, her life. When she is in the Portland/Seattle area in the future, she will come to the office, so we can check on her progress.
Steven Gabel, MD, FACS
Bald class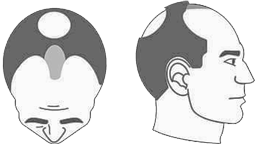 Norwood class 4
Characterized by further frontal hair loss and enlargement of vertex, but there is still a solid band of hair across the top (mid-scalp) separating front and vertex.